Welcome to the Ant Bully Wiki!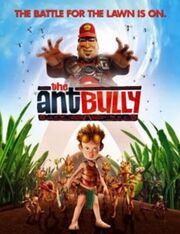 Hope you all enjoy!
Welcome to the Antbully Wiki
The 2006 film; about a boy who becomes part of the Ants in a special way.
About the Film
This film is about a young boy who is constantly bullied by others. So he takes his suffering out on a hive of ants that are nested on his home's grass. Zoc, the Ant colony's wizard, decides to take matters into his own hands when the hive is once again endangered by The Ant Bully.
Ad blocker interference detected!
Wikia is a free-to-use site that makes money from advertising. We have a modified experience for viewers using ad blockers

Wikia is not accessible if you've made further modifications. Remove the custom ad blocker rule(s) and the page will load as expected.